Why Partner With
The Holiday Franchise Company?
There are a few travel franchise companies out there. This is a good sign as it shows how successful a travel franchise can be.
If you are seriously considering investing into a travel franchise, there are a number of factors to take into consideration.


Are you being rushed?
Investing in a franchise is a huge commitment. Any guidance you read from franchising experts it to take your time.
HSBC Franchising offer great advice on this:
"When you buy a franchise, you're entering into a long-term business relationship. It's vital you take the time to decide if franchising is right for you - as well as to thoroughly check the background and business performance of your prospective franchisor. Above all, don't rush your decision.
Be wary of franchisor pressure to sign up - particularly if they imply that if you don't sign now you won't get another opportunity."
Our onboarding process is always at your pace. We're happy to answer all of your questions and we insist on a business planning meeting to explore earnings, costs and cashflow of the business you are about to step into.
Best New Franchise
The Holiday Franchise Company have been selected as the 'Best New Franchise' at the Approved Franchise Association awards. Alongside our proven business model, our ethical approach to franchising helped us pick up this amazing accolade.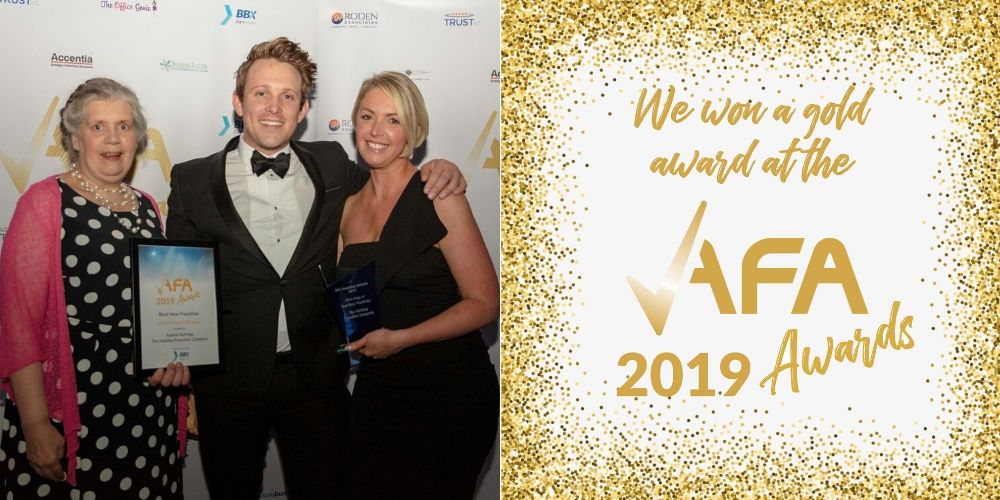 Proven Business Model
With over 100 self-employed sales staff working from home demonstrates we have a proven model that works. They have become successful on lower commission rates than franchisees, so you have every chance of success.
To see how successful we are search for our parent company "Holidaysplease" on Trust Pilot where you will see our incredible reviews.
Our group currently holds awards for, 'Best New Franchise', 'Online Travel Agency of The Year' and 'Luxury Homeworking Business of the Year'